i know, i know, more baseball. but one of the big acquisitions in my fantasy draft this year was carlos pena, the first baseman for the tampa bay rays. i argued back in march:
i've learned that having a james loney at first just won't fly – there's too much power at the position, and i put myself in a terrible disadvantage by not getting a piece of that power. you can't make it up in other places. so i budgeted $45 for a 1B and hoped i'd get someone in the 3rd tier (first being pujols, second being fielder+miguel cabrera+ryan howard).
and here's what i wrote about carlos pena at the time:
priority 2 was a win, i think, but i could easily be wrong. i paid $37 for carlos pena, who is good but one step down from what i wanted.
well, so far, i've been wrong. carlos pena is hitting .184 with an OBP of .298 and SLG .331. 5 home runs, 19 runs scored. excuse my language, but he's been pretty fucking brutal.
now a lot of other moves i made have worked out. my pitching has started slow but is doing well enough, and my offense, despite the deadweight at 1st, has been doing great, anchored by the extra power out of my pair of 2Bs, dan uggla and chase utley. as of right now i'm in 2nd place, 3.5 points out of first, but as recently as last week i was in 1st. however, players are starting to move (including a trade i just made that i'll have to write about in another post), and i need to make a decision on first base. i have a couple of interesting guys who i can consider moving to a team out of contention in order to replace pena, but the only reason to consider doing that is if i truly don't believe pena will rebound. so, let's look a bit deeper into his 2010.
fangraphs is the first (and sometimes only) stop when trying to evaluate players a bit further. looking at pena's page there, you'll see his BABIP is .220, which is low and somewhat unlucky. however, the real problem seems to be his GB/FB ratio, which has jumped to .98 from being .54 last year and .63 the year before that. this is partially due to a lack of line drives (12.6% as opposed to 17-18% the last 3 years), but his GB% has just skyrocketed so far this year. it's really dragging down every other part of his line, because his K rate has dropped(!) and his BB rate is only slightly down. so why has the GB% jumped?
well, here come the fun pictures: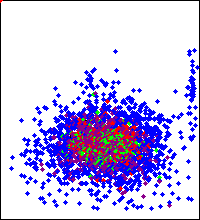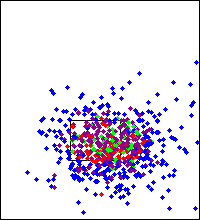 the first picture is carlos pena's pitches seen in 2009, and the second one is 2010 to this point. blue indicates balls, red indicates strikes, purple indicates swinging strikes, and green indicates a ball put into play. right now, it looks to me like pitchers have a really good approach when pena's at the plate. the number of pitches on the outer half of the plate have decreased significantly, as well as the pitches in the upper half of the plate – everything is down and in, down and in. however, pena is also not punishing mistakes – there is far less green and far too much red on the second image. this could be because he's generally trying to change his approach to adjust to the slump and see more pitches, but it seems to me that pena needs to adjust to how pitchers have adjusted to him – go down and get pitches in the lower half of the zone and punish the mistakes he has seen.
going back to fangraphs, it's clear that not a lot has changed about pena's plate discipline. he is swinging at a few more pitches outside the zone, but his overall contact% is actually higher than in year's past. so while i can sit here and argue that his approach might need help, it seems much more likely that in reality, this is a bit of statistical noise from 39 games and 160 PA, and by the end of the season, we probably won't remember the difficult beginning.
update a few things have changed as i was writing this post. first, i'm now in first place by 1.5 points with 80 points in the league. second, carlos pena hit a home run. but hey, i'm just working my way back into this blog game, so some rust is to be expected.